United Garage Doors - Garage Door Repair Atlanta, GA -

404-425-9063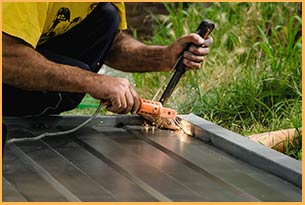 Have you been ignoring a faulty garage door for a long time? When was the last time you had a complete maintenance and repair service done? Garage doors are prone to many issues like rust, depreciation of quality, lack of spring elasticity, etc. and these issues can pose a serious threat to you and your valuables, therefore it is important to have a professional garage door services company like United Garage Doors by your side. Broken cables and springs or incorrect force settings are telltale signs of impending mishaps. We provide timely repair services to detect such issues and ensure that you don't become a victim of such a fate.
United Garage Doors has been providing remarkable garage door services for over a decade and does its best to make sure that you don't have to live with a faulty garage door. In case you need a new garage door altogether, our technicians can install sturdy industry-recommended garage doors too.
Garage door inspection:
Garage doors operate with a synchronized behavior of many complex mechanical components and functional torsion springs and it requires trained experts to detect any discrepancies and help you avoid serious damage. We recommend all our customers to get their garage doors checked and repaired on a routine basis to weed out any flaws from the system and identify whether they need to install new components.
When you call our technicians, they will conduct a series of inspections and analyze all the components, including cables, torsion springs, door hardware, force setting on the opener, etc. With a thorough analysis, they can identify signs of rust, wear and tear, ominous broken springs or any other component dysfunction and can help you take affordable and corrective measures to fix them in time and increase the lifespan of your garage door.
Damaged doors:
There are many things that may cause partial or serious damage to your garage doors, from depreciation with time to accidental vehicle collisions or break-ins. A damaged garage door must not be ignored for long as it leaves you exposed to security risks. If you need to get your garage door repaired or replaced, call our experts and we will be at your service, no matter where you call us or at what time of the day.
Off-track garage doors:
Garage doors may go off-track due to several reasons - a cable breaking from one end, harsh weather conditions, vagaries of temperature, obstruction while closing, and depreciation over time - all these issues can make your garage door leave its track and cause it to dangle in a precarious position. Don't worry, if you experience any one of these issues, simply call United Garage Doors experts and we will restore your garage doors back on their tracks in a jiffy.
If you need the best garage door service with zero damage to your property or valuables, you have come to the right place. United Garage Doors technicians are the best in Atlanta, GA area and can help you get rid of all your garage door-related woes.